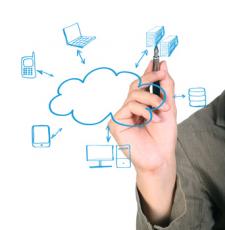 As a business owner, you're caught in the middle. Your operations depend on your network and technology running efficiently. You can't afford for your network to run poorly or unreliably. How do you go about choosing someone who is actually qualified, but doesn't cost you an arm and a leg?
Let rbTech manage your network for you
With our Perception Managed Service programs, you get proven knowledge and expertise, unparalleled personal service, all at a cost that is significantly lower than a comparable salary and benefits package. Add to the list of benefits that as contractors, we don't collect benefits, call in sick or take vacations. As a team, our body of knowledge and experience is far more than any single person can possibly hold and you have a simple formula: We perform better and cost less than a full or part-time network administrator.
What is Perception?  Perception is a set of powerful tools in our Network Operations Center (NOC) that alerts us to issues and faults on your servers, workstations and network equipment so that we know before you do if there's a performance issue.  In fact, we regularly receive the alert and resolve the issue before it has any impact on your productivity.  It delivers powerful patch management, including Microsoft updates, and updates to Adobe Reader, Flash player, Shockwave, Java, Google Chrome, Mozilla Firefox and many more. It also delivers fully managed Antivirus and Antimalware tools (no more worrying about Antivirus updates!).  And our basic remote control service is absolutely free (for real!).
So help your business grow by making the dependable, responsible choice. Call rbTechnologies today!