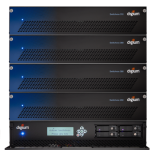 These phone systems are so cool it hurts!  Dial from your computer?  Check.  Converged calls through your PBX from your cell phone?  Check.  Visual Voicemail, call transfer, music on hold, find me/ follow me?  Check.  Brings up a Google Map of caller ID and where they're calling from?  Oh, yeah.
We've been using a Digium Switchvox to run our busy office since 2008 and it's simply the best phone system we've ever seen.  Easy to run, easy to set up, and easy on the bottom line.  What more could you want?  After careful research, rbTechnologies selected Digium as our partner for IP phone systems in 2009.  The SwitchVOX line of IP PBXs has every feature you would expect from an enterprise phone system and some you wouldn't!
With Visual Voicemail, Call Queues, Interactive Voice Menus and countless features, the Digium SwitchVOX systems offer the best value that we've found!  Starting at under $4,000 complete, they're affordable even for the smallest business.  Call rbTech today for more information!